What am I supposed to wear during different seasons for a wedding?
Depending on the time of year it's important for Wedding guests to remember how different seasons can play a huge part in determining your wedding attire.   Designer Room carries an exquisite collection of hand-picked designer dresses to hire for all eventualities.  Some suggestions to keep in mind for your next wedding.
What to Wear to a Winter Wedding
A winter wedding is the perfect excuse to wear your most fun, festive dress. When shopping for winter wedding outfits, keep an eye out for head-to-toe sequins or luxe, jewel-toned fabrics like emerald green, ruby and royal blue.  These colours work on almost every skin tone and you'll find an excuse to re-wear them during the holiday season.  Wedding guest dresses made of heavy fabrics, like velvet, will keep you warm during a bitterly cold evening celebration.  Alternatively, you prefer to wear a shorter dress pair it with opaque black tights and closed-toe pumps or high heels.  And a must to keep you warm is a fur or faux-fur shrug or a gorgeous velvet coat will go down a treat.
What to Wear to an Autumn Wedding
Autumn weddings can be more challenging to dress for since the weather can be so unpredictable, that's why dressing in layers is paramount.  Autumn is finally the time you can break out your favourite little black dress and suede heels, but perhaps wait until closer to the date to finalise accessories.  Since Autumn tones tend to be dark and muted, try adding a pop of bright colour with a bold statement necklace, scarf or lipstick.  Choose a dress you could wear with or without tights for that unexpected September heat, and it's probably a good idea to have a faux fur shawl wrap on standby in case the temperature drops unexpectedly.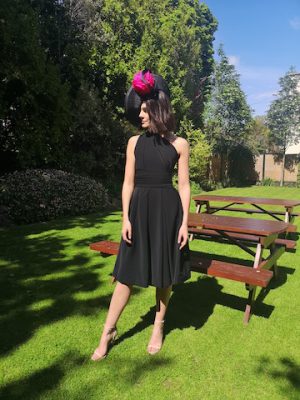 What to Wear to a Summer Wedding
Dressing for a summer wedding is all about looking elegant, while keeping it cool.  Focus on wearing breathable fabrics during an outdoor wedding. Fight off heat and humidity while still looking poised and elegant when you wear a longer dress made with light and airy fabrics like silk or chiffon.  Dress up a cute sundress with chic heels or wedges. Keep a lightweight pashmina on hand.  Even if the wedding is taking place in the middle of July, if a wedding invite says, "black tie," you're going to have respect the dress code and wear a suitable 'black tie' dress.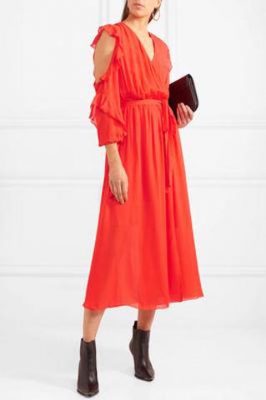 What to Wear to a Spring Wedding
Springtime affairs are beautiful with all the new blooms and freshly cut grass but dressing for a spring wedding can be tricky.  Be wary of outdoor weddings when spring rain showers can cause damp grass and mud that your heels will undoubtedly sink into.  Therefore, hiring dresses can be the answer to survive an indoor or outdoor wedding.  Think of any problems that could arise.  For instance, avoid long dresses that could drag in potential mud, always keep a pair of closed-toed flats on hand and bring an umbrella for impromptu rain showers. 
Hiring Designer Dresses – How does it work?
Hiring at Designer Room couldn't be easier – you simply book an appointment, you try it on, you hire it.  Ahead of booking your appointment, you can have a sneak preview by browsing through a gallery of dresses online at designerroom.ie. 
The first of its kind in Ireland the Designer Room showroom is in the beautiful coastal suburb of Sandymount, Dublin 4. What's more, appointments can be arranged outside of the usual business hours.
If you think the Wedding venue and setting call for something extra-special, don't feel pressured into buying a new dress when you can hire beautiful dresses for a fraction of the price. 
Designer Room offers a selection of one-off designer dresses for rent with a personal service that's tailored to you to find the right style of dress for you. But before you make any wardrobe decisions you can view all their collections, designer brands and exquisite dresses online at designerroom.ie